Image
Looking For An Exterminator in Tiptonville, TN?
Pest Control in Tiptonville, TN
When pests show up in your home, it's more than unpleasant. Pest invasions add more to your already growing to-do list. At Okeena Termite & Pest Control, we provide quick and effective treatments that last so that you can focus on the rest of your busy schedule. 
Our skilled Okeena team receives continuous training so that our technicians can handle whatever pest comes your way. When you call Okeena for pest control in Tiptonville, you can expect:
A free, thorough inspection from a highly-qualified exterminator.
A courtesy call when a technician is on their way.
Exterior barrier treatment is included in every program.
Several program options to choose from to meet your needs and budget.
Same-day & next-day service including priority scheduling for premium customers.
When you choose Okeena, you're making a decision to protect your property and the entire family. We keep our treatments family-safe so that everyone can enjoy a pest-free home without worry.
Image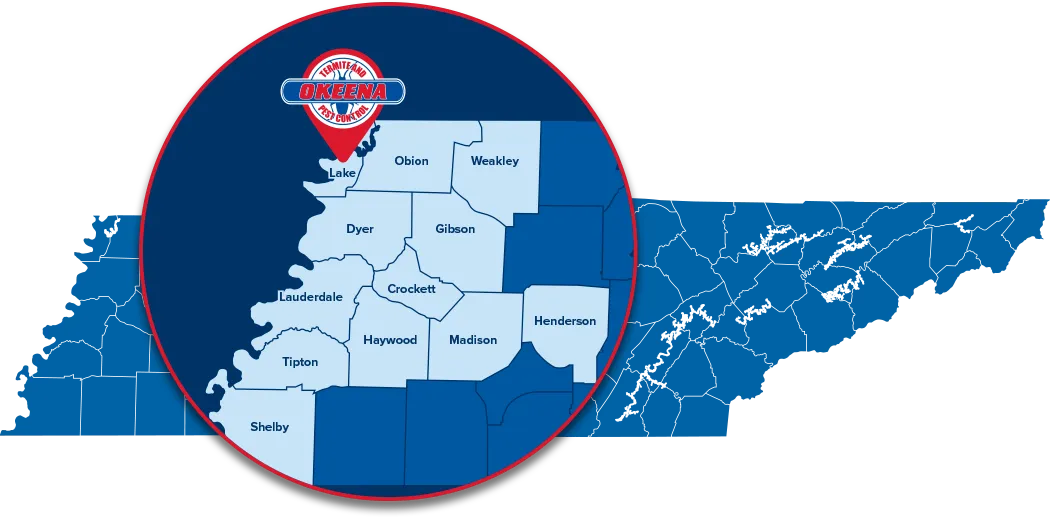 Termite Exterminator in Tiptonville, TN
Termites are the "silent destroyers" of the pest world. These insects work together strategically to make a meal of wood, paper, and any structure containing cellulose. Unfortunately, that includes essential components of your home. The best way to avoid termite damage is with professional termite control.
At Okeena, we focus on moisture control to keep termites away in the long run. Our termite control options are crafted to fit the structure of your home, including:
Three programs designed for homes with crawl spaces.
Two programs specifically for homes with concrete foundations.
Treatment plans designed to accommodate your budget.
Yearly applications available with our annual renewal option.
Multiple treatment methods for a comprehensive treatment approach. 
Bed Bug Exterminator in Tiptonville
Discover the ultimate solution to get rid of bed bugs and finally get a good night's sleep. Experience our innovative bed bug treatment that eliminates infestations and keeps them from coming back. With over 61 years of experience, we know exactly how to tackle even the toughest bed bug problems.
When you choose our bed bug service, you'll receive:
A free inspection from our knowledgeable and friendly technicians.
A detailed quote that allows you to make an informed decision.
Preparation instructions to ensure the treatment is as effective as possible.
A follow-up visit two weeks after the initial treatment to ensure complete eradication.
Service that goes above and beyond to deliver exceptional results.
Get back to peaceful sleep with our reliable bed bug treatment in Tiptonville. Contact us today for a free inspection and take the first step towards a bed-bug-free home.
Stinging Insect Exterminator in Tiptonville
Don't let stinging insects keep your family from enjoying your outdoor space! Our team of expert wasp exterminators in Tiptonville is here to help you reclaim your yard. You can trust us to handle the job with care and professionalism, providing:
Comprehensive Inspection: Our experienced professionals will conduct a thorough assessment of your property to identify potential wasp nests and hotspots for stinging insects. Leave no corner unchecked and enjoy peace of mind knowing your space is fully covered.
Safe Removal: Your family's safety is our top priority. Our trained specialists use industry-standard techniques to safely remove wasp nests and eliminate stinging insects from your surroundings. Trust us to handle the job with care and professionalism, minimizing any risk to you, your family, or your pets.
Satisfaction Guarantee: We stand behind the quality of our services. Your satisfaction is our goal, and we won't rest until we've achieved it. If you're not completely happy with the results, we'll work with you to make it right.
One-Time Service: Our efficient and effective approach ensures that you don't have to worry about recurring infestations. With our one-time service, we'll get the job done right the first time, giving you long-lasting relief.
Local Wasp Removal: Our expert team has over 60 years of local service, providing treatments you can trust. Partner with us to reclaim your outdoor space and eliminate the threat of wasps, hornets, and yellow jackets.
Don't let stinging insects keep your family from enjoying your outdoor space. Contact us today and let our professional wasp exterminator in Tiptonville take care of your stinging insect problem. Trust our comprehensive inspection, safe removal techniques, and satisfaction guarantee to reclaim your space.
Say goodbye to wasps, hornets, and yellow jackets and hello to a wasp-free environment. Contact us today and take advantage of our 60+ years of local service experience. Let us help you enjoy your outdoor space without the worry of stinging insects.
Our Guarantee
Should pests persist in between scheduled treatments, simply let us know and we'll re-service your home for no additional cost to you. That's our guarantee to you!
Image