Image
Looking For An Exterminator in Tiptonville, TN?
Pest Control in Tiptonville, TN
When pests show up in your home, it's more than unpleasant. Pest invasions add more to your already growing to-do list. At Okeena Termite & Pest Control, we provide quick and effective treatments that last so that you can focus on the rest of your busy schedule. 
Our skilled Okeena team receives continuous training so that our technicians can handle whatever pest comes your way. When you call Okeena for pest control in Tiptonville, you can expect:
A free, thorough inspection from a highly-qualified exterminator.
A courtesy call when a technician is on their way.
Exterior barrier treatment is included in every program.
Several program options to choose from to meet your needs and budget.
Same-day & next-day service including priority scheduling for premium customers.
When you choose Okeena, you're making a decision to protect your property and the entire family. We keep our treatments family-safe so that everyone can enjoy a pest-free home without worry.
Image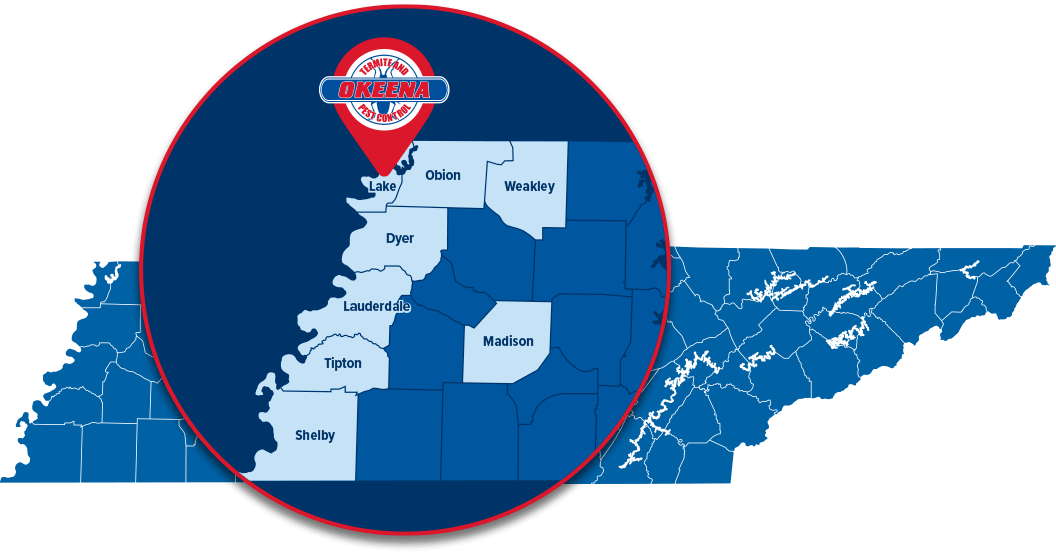 Termite Treatment in Tiptonville, TN
Termites are the "silent destroyers" of the pest world. These insects work together strategically to make a meal of wood, paper, and any structure containing cellulose. Unfortunately, that includes essential components of your home. The best way to avoid termite damage is with professional termite control.
At Okeena, we focus on moisture control to keep termites away in the long run. Our termite control options are crafted to fit the structure of your home, including:
Three programs designed for homes with crawl spaces.
Two programs specifically for homes with concrete foundations.
Treatment plans designed to accommodate your budget.
Yearly applications available with our annual renewal option.
Multiple treatment methods for a comprehensive treatment approach. 
Air Duct Cleaning in Tiptonville, TN
Suffering from unexplained allergy flares? Noticing indoor allergies even though you keep your home clean? It's probably time to clean your air ducts. Most of us are aware we need to replace air filters, but the importance of regularly cleaning air ducts tends to fly under the public radar. In the process, these ducts collect particles of dirt, dust, pet dander, and even cooking residue. This means that even the cleanest of homes can fall victim to dirty, neglected air ducts. At Okeena, we've been providing air duct cleaning for just as long as we've been fighting pests–over 50 years. The many benefits of professional air duct cleaning include:
Reducing indoor air pollution.
Better moisture control. 
Preventing unexplained or persistent odors.
Improving indoor allergies. 
Confirming your air ducts are pest-free.
If you're ready to improve indoor air quality for yourself and your loved ones, contact Okeena today for your free estimate.
Our Guarantee
Should pests persist in between scheduled treatments, simply let us know and we'll re-service your home for no additional cost to you. That's our guarantee to you!
Image