Image
Looking For An Exterminator in Union City?
Pest Control in Union City
Okeena Termite & Pest Control was founded in 1962 to provide customer-centered professional pest control to West Tennessee. We know from experience that every pest situation presents a different combination of needs, from one-time treatments to systematic programs. 
Our specially-trained technicians are ready to bring you the best pest control in Union City, including:
Free general pest inspections

 

Multiple treatment packages

so you can find a service that meets your needs and fits your budget.

A courtesy call

whenever a team member is on the way.

Exterior barrier applications are included in every program.

Family-friendly treatments

that are tough on pests, but safe for your home.

Our Satisfaction Guarantee!
At Okeena, we're committed to pest control with results that last. Get rid of pests and keep them away by scheduling with us today!
Image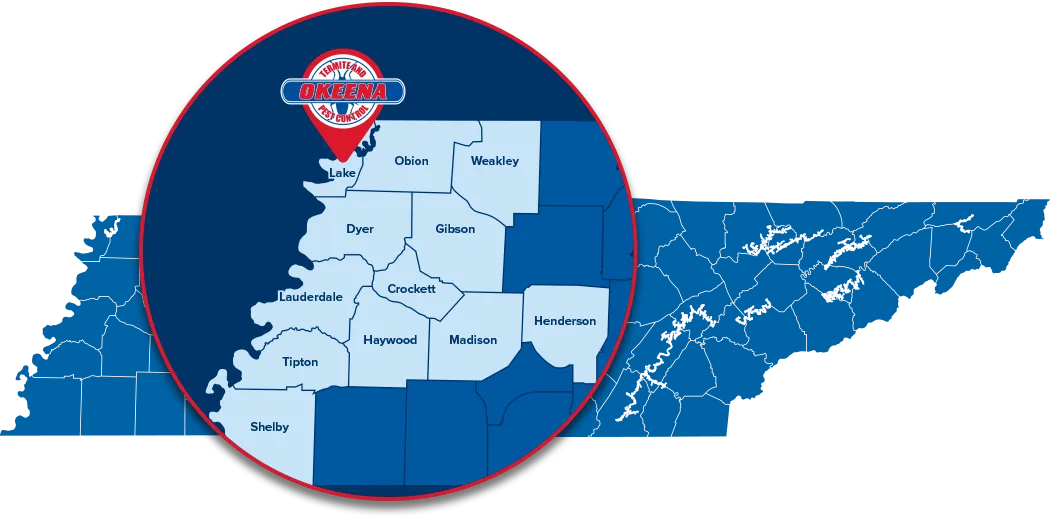 Termite Exterminator in Union City
Is the wood around your home starting to look warped? It's not just your imagination but it could be a result of excess moisture and possibly termites. These destructive pests love to hide in cellars, foundations, or any place they can find wood and fungus to eat.
While termites will feed on almost any wood, every house has its own structure and spaces where termites may prefer to congregate. That's why our termite treatment plans at Okeena include:
Moisture control services

that can help make your home less attractive to termites.

Three termite control

plans for homes with crawl spaces.

Two termite control

plans for homes with a concrete slab foundation

.

Continuous exterior barrier as a part of all plans.
Bed Bug Exterminator in Union City
Despite their tiny size, bed bugs can cause a lot of turmoil. Not only do these pests leave irritating bites, but even the thought of bed bugs is enough to keep you up at night. Okeena's top-of-the-line bed bug treatment exterminates the blood-sucking insects and helps keep them from returning.
When you contact us for bed bug treatment in Union City, you can expect:
Scheduling that works for you

so you can be confident about following the preparation procedure.

A free inspection

from one of our courteous, well-trained technicians.

Detailed preparation instructions

that maximize treatment results.

A free follow-up two weeks after treatment

to make sure you're bed-bug free.
Stinging Insect Exterminator in Union City
Don't let stinging insects ruin your outdoor space! Partner with Okeena Termite & Pest Control, the trusted wasp exterminator in Union City, for effective and hassle-free stinging insect control, targeting insects such as wasps, hornets, yellow jackets and more.
Here's why you should choose us:
Comprehensive Inspection: Our experienced professionals will conduct a meticulous assessment of your property, leaving no hiding spot for wasp nests and stinging insects.
Safe Removal: Our trained specialists use industry-standard techniques to safely remove nests and eliminate stinging insects, ensuring your family's safety.
Satisfaction Guarantee: We stand behind the quality of our services and won't rest until you're completely satisfied. If you're not happy, we'll make it right.
One-Time Service: Our efficient and effective treatments ensure that you won't have to deal with stinging insects again.
61 Years of Local Service: With over six decades of experience, you can trust us to provide reliable and effective solutions for your pest control needs.
Don't let stinging insects keep you from enjoying your outdoor space. Contact Okeena Termite & Pest Control today to schedule a consultation and reclaim your yard. Trust the experts to handle your wasp removal and stinging insect control needs in Union City.
Choose the Local Experts
Okeena Termite & Pest Control is a family and locally-owned and operated business, so we know how personal pest control can get. Keeping your home and business pest-free benefits the entire community and we're prepared for the specific pest challenges this area can present. You deserve the same service we'd give our own families. Schedule with us today for cutting-edge pest control combined with customer service you can really rely on.
Our Guarantee
Should pests persist in between scheduled treatments, simply let us know and we'll re-service your home for no additional cost to you. That's our guarantee to you!
Image