Image
Looking For An Exterminator in Ripley,TN?
Pest Control in Ripley, TN
When pests invade your home in Ripley, you need same-day residential pest control that you can rely on. Our team at Okeena Termite & Pest Control is here to provide you with the best possible service to eliminate those pesky creatures.
With over 61 of experience, we know exactly how to handle common household pests such as:
Ants
Cockroaches
Fleas
Moths
Spiders
Silverfish
Ticks
And much more!
Image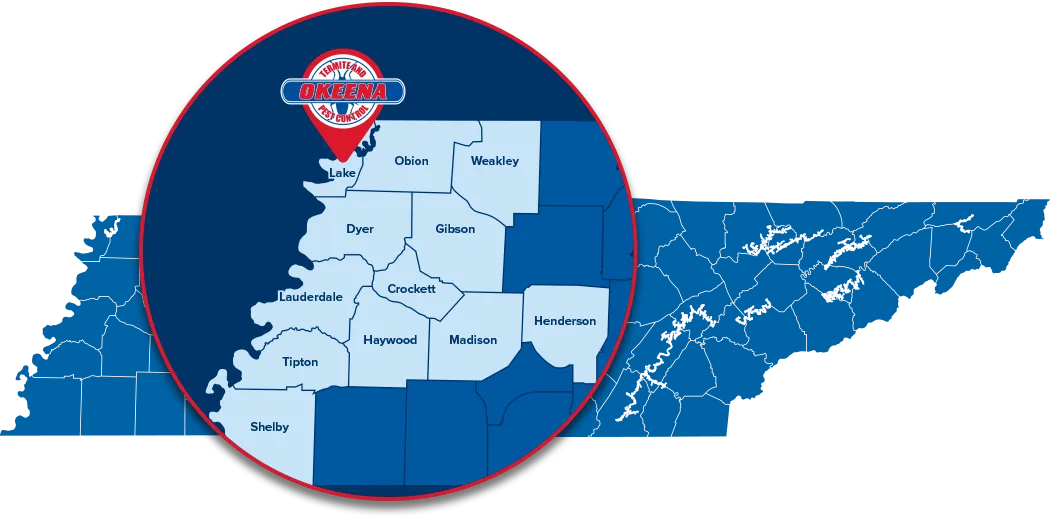 Local Exterminators You Can Rely On
Our exterminators are highly-trained and knowledgeable, ensuring that they can effectively get rid of any pest problem you may be facing.
We offer general pest control services that are tailored to meet your specific needs, whether it's a one-time treatment or recurring visits to keep pests at bay.
Our team will conduct a thorough pest inspection to identify the source of the problem and create a customized treatment plan.
We understand the importance of keeping your family and pets safe, which is why we use family-friendly treatments and top-of-the-line safety equipment.
You can trust us to prioritize your convenience by offering same-day and next-day services to fit into your busy schedule.
Say goodbye to pests and hello to a pest-free home with Okeena Termite & Pest Control. Contact us today to schedule your appointment.
Termite Exterminator in Ripley
Discover the ultimate termite control service in Ripley, TN. With over 61 of experience, we are the trusted termite exterminator in the area. Our comprehensive termite inspection ensures that no termite goes unnoticed. But that's just the beginning. Check out these amazing benefits:
Customized treatment programs: We understand that every termite infestation is unique. That's why we offer a range of treatment programs tailored to your specific needs, whether your home has a crawl space or a slab foundation.
Family-and-pet-friendly termite treatments using Sentricon: Say goodbye to harmful chemicals. Our termite treatments utilize the Sentricon system, a cutting-edge solution that specifically targets termites while ensuring the safety of your loved ones.
Ongoing termite monitoring and prevention: We don't just eliminate termites once; we make sure they never come back. With our ongoing monitoring and prevention services, you can have peace of mind knowing your home is protected year-round.
Moisture control and floor support: As Ripley's humid climate creates the perfect environment for termites, we offer additional services to address the root causes. Our moisture control solutions and floor support repairs will keep termites at bay and restore your home's integrity.
Bed Bug Exterminator in Ripley
Don't let those elusive bed bugs ruin your sleep - our bed bug control service in Ripley can help you get rid of them for good. With over 61 of experience, our bed bug treatment is proven to be effective in fully eliminating infestations.
When you choose us, you'll receive:
A free inspection from our experienced and personable technicians.
A free quote to make an informed decision.
Detailed preparation instructions to maximize the effectiveness of the treatment.
A free follow-up two weeks after the initial treatment.
Service that goes above and beyond to ensure your satisfaction.
We pride ourselves on our local and trustworthy service, treating our customers like family. Say goodbye to bed bugs today - our bed bug exterminators in Ripley are here to help you sleep soundly again.
Stinging Insect Exterminator in Ripley
Don't let stinging insects ruin your outdoor space. Our team of expert wasp exterminators in Ripley is here to help you reclaim your yard. With a comprehensive inspection, safe removal techniques, and a satisfaction guarantee, we will eliminate those pesky stinging insects for good.
We will remove stinging insects such as:
Paper wasps
Red Wasps
Bald-Faced Hornets
Yellow Jackets
And More
Trust our 60+ years of local service to get the job done right. Contact us today and say goodbye to wasps, hornets, and yellow jackets!
Our Guarantee
Should pests persist in between scheduled treatments, simply let us know and we'll re-service your home for no additional cost to you. That's our guarantee to you!
Image