Image
Looking For An Exterminator in Ridgely, TN?
Pest Control in Ridgely, TN
As a locally-owned pest control company, we've been serving our local communities in Ridgely since 1962!  That means that our team of knowledgeable exterminators has the experience, expertise, and equipment to combat all of the household pests local to the area.
Our pest protection program will provide relief from critters such as:
Image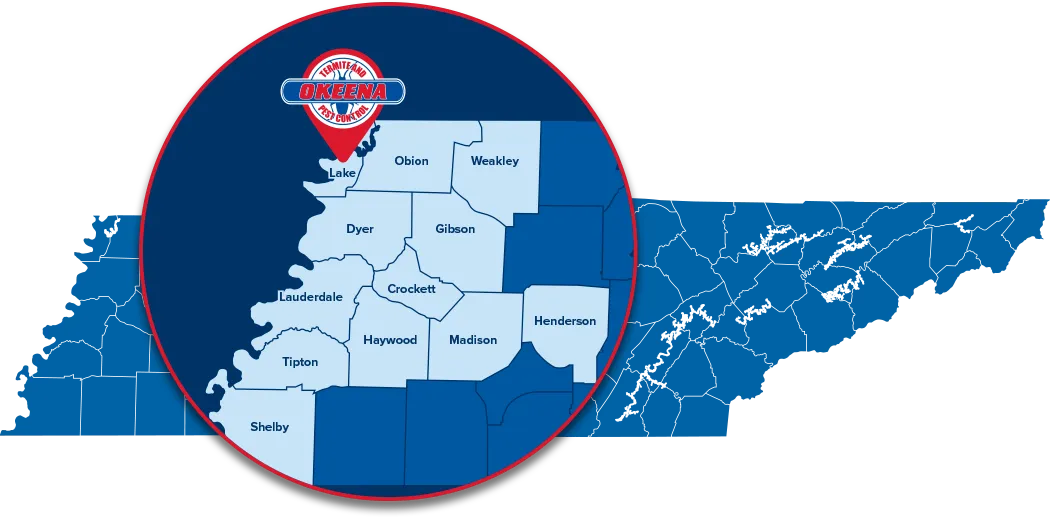 Family-Safe Treatments You Can Trust
We know that pest problems can affect the entire family and throw off the routines you need to keep everyday life running smoothly. When you're facing an infestation, you deserve trustworthy technicians that can get rid of pests without adding extra stress. That's why at Okeena, we use family-safe treatments so that when the job is done, everyone can enjoy the results.
When you call on our accredited expert exterminators, you can expect:
A courtesy call

whenever a technician is on the way.

Multiple programs and packages

for lasting protection that fits your budget.

Exterior barrier application

as a part of every plan.

Same-day and next-day service

available for your convenience.

Our satisfaction guarantee

that if pests return in between treatments, we will too.
You deserve pest control you can depend on for consistent results, backed by decades of experience. 
Termite Exterminator in Ridgely
Are you worried about termites invading your home? Look no further! Our expert termite exterminators in Ridgely have over 61 years of experience and offer an array of proven solutions to safeguard your property. Say goodbye to termite troubles and hello to peace of mind!
Our termite control in Ridgely includes:
Comprehensive Termite Inspection: Unearth hidden threats with our meticulous termite inspection that leaves no nook or cranny unchecked. Knowledge is power – and we empower you to make informed decisions.
Five Tailored Treatment Programs: No two homes are alike, and neither are our solutions. Choose from five customized termite treatment programs designed to fit your budget and needs perfectly.
Sentricon, A Family & Pet-Friendly Defense: Experience the future of termite control with Sentricon System featuring Always Active™ technology. Let your loved ones thrive in a safe environment while we target termites exclusively.
Ongoing Monitoring & Prevention: Our commitment doesn't end with treatment. Benefit from continuous termite monitoring to prevent future infestations. Your peace of mind is our mission.
Moisture Control: Ridgely's humid climate can invite termites. We combat this by tackling moisture problems head-on, creating a fortress against these destructive pests.
Floor Support: Don't let sagging floors dampen your home's charm. Our durable joist systems restore your home's structural integrity, ensuring a firm foundation for years to come.
Humid Climate Specialization: Ridgely's climate demands vigilance. Our solutions are tailored to your region's unique challenges, offering ongoing termite monitoring to counter the effects of humidity.
Trust the experts at Okeena Termite and Pest Control. With our unparalleled experience and cutting-edge solutions like Sentricon, we are your partners in termite control. Get ready to embrace a home free from termite worries.
Bed Bug Exterminator in Ridgely
Are you tired of losing sleep because of bed bugs? Look no further! Our bed bug control service in Ridgely is here to help you get rid of bed bugs once and for all. With over 61 of experience, we know exactly how to eliminate these obnoxious pests and give you the peaceful sleep you deserve.
Why choose our bed bug treatment?
Experienced and personable technicians: Our skilled bed bug exterminators will provide you with a free inspection and a detailed quote, ensuring that you feel confident in your decision to trust us with your bed bug problem.
Thorough preparation instructions: We understand that preparation is key to effective treatment. Our technicians will guide you through the necessary steps, such as reducing clutter and heat-treating affected fabrics, to ensure that our treatment is maximally effective.
Free follow-up two weeks after treatment: We go above and beyond to ensure your satisfaction. Our free follow-up visit ensures that any lingering bed bugs are completely eradicated.
Local and trusted service: As a locally owned and operated business, we treat our customers like family. We offer same-day service because we know the value of your time and your home.
Don't let bed bugs disrupt your sleep any longer. Call our reliable bed bug exterminators in Ridgely today and experience the relief of a bed bug-free home. 
Stinging Insect Control in Ridgely
Are you tired of being constantly on guard against stinging insects? Don't let wasps, hornets, and yellow jackets ruin your outdoor space and put your family at risk. Partner with Okeena Termite and Pest Control, the trusted wasp exterminator in Ridgely, to reclaim your yard and enjoy peace of mind. With over 61 years of local service, we have the experience and expertise to effectively get rid of stinging insects and provide comprehensive stinging insect control.
Here's what you can expect when you choose our services:
Comprehensive Inspection: Our skilled professionals will conduct a meticulous assessment of your property, leaving no hiding spot unchecked. We'll identify potential wasp nests and stinging insect hotspots, ensuring every corner is covered.
Safe Removal: Your family's safety is our top priority. Our trained specialists use industry-standard techniques to safely remove wasp nests and eliminate stinging insects from your surroundings. Say goodbye to the threat of painful stings!
Satisfaction Guarantee: We stand behind the quality of our services. Your satisfaction is our goal, and we won't rest until we've achieved it. If you're not completely happy with the results, we'll work with you to make it right.
One-Time Service: We understand that you want quick and efficient solutions. That's why we offer one-time services for wasp removal and stinging insect control. No need for multiple visits or ongoing contracts.
Don't let stinging insects take over your outdoor space. Trust Okeena Termite and Pest Control, the leading stinging insect control service in Ridgely, to handle the job with care and professionalism. Contact us today to schedule a consultation and reclaim your yard. 
Our Guarantee
Should pests persist in between scheduled treatments, simply let us know and we'll re-service your home for no additional cost to you. That's our guarantee to you!
Image