Image
Looking For An Exterminator in Kennett, MO?
Pest Control in Kennett, MO
Nestled between the St. Francis and Mississippi River, Kennett is no stranger to wetlands or the pests that are attracted to them. Letting an infestation get out of control can cost you time and money. At Okeena Termite & Pest Control, we have been providing effective pest treatments for 60+ years. 
We can rid your home or yard of annoying pests such as:
Bed Bugs

Fleas and Ticks

Wasps

Termites

Carpenter Bees

Brown Recluse Spiders 

And many more!
Image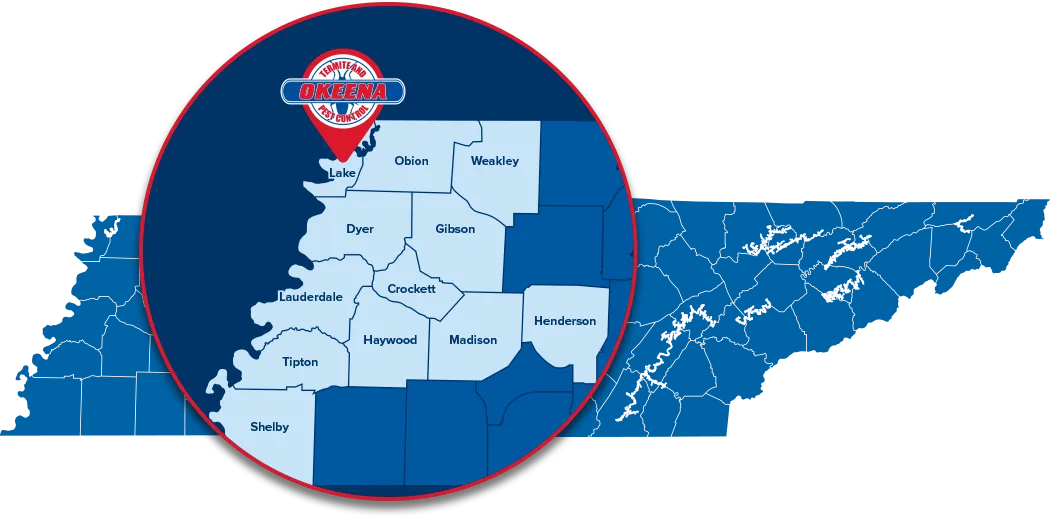 Customized Treatments for Guaranteed Results
The skilled and knowledgeable team at Okeena receives continued training on new pest control techniques and the newest, most effective products to stay up-to-date and provide the best treatments possible. 
When you call Okeena for pest services in Kennett, you can expect:
An experienced exterminator will perform a free, comprehensive pest inspection.
A courtesy call letting you know we are on our way.
Perimeter barrier treatment applied outside your home.
Several program options to choose from to meet your needs and budget.
Same-day or next-day servicing. 
Priority scheduling for premium customers.
And more!
Pests can quickly multiply and get out of hand and require the skills of an experienced exterminator. When you choose Okeena, you can rest assured that your home and family are well-protected. Our treatments are pet and family-safe so that everyone can enjoy a pest-free home without worry.
Termite Exterminator in Kennett
No one wants to find termites in their home. These small insects congregate in massive numbers and are known to cause massive property damage—including eating through your home's foundations and wooden structures and causing floors and supports to collapse. 
Take your home back today with the help of Okeena Termite & Pest Control and our team of knowledgeable termite exterminators! When you partner with us for termite treatment, you will receive:
A comprehensive inspection

of your home.

Preventative moisture control

treatments.

Slab foundation

home treatment options.

Crawl space

home treatment options.

Baited treatments

using Trelona termite bait.

Chemical treatments

using Termidor SC and Dominion liquids.

Exterior barrier application

included in each control plan.
Don't let termites control your life for a second longer! Let Okeena handle your home and family's safety and give you the peace of mind you deserve. 
Bed Bug Exterminator in Kennett
 Don't let bed bugs ruin your sleep. Our bedbug control service in Kennett will efficiently get rid of bed bugs so you can rest easy.
Free inspection and quote to ensure confidence in our bed bug treatment plan.
Detailed preparation instructions to maximize results.
Free follow-up two weeks after initial treatment to ensure complete bed bug elimination.
Locally owned and operated with a focus on same-day service to minimize interruption to your life.
Rigorously-trained technicians will explain the bed bug treatment process and provide all necessary information.
With over 60 years of local experience, you can trust us to provide the best bed bug control service in Kennet, so that you can get back to sleeping soundly!
Stinging Insect Exterminator in Kennett
Are you tired of being held hostage by stinging insects in your own backyard? Don't let wasps, hornets, and yellow jackets keep you from enjoying your outdoor space any longer. Okeena Termite & Pest Control is here to help you reclaim your yard with our comprehensive stinging insect control service in Kennett. 
Here's what you can expect from our one-time service:
A comprehensive inspection to identify potential wasp nests and stinging insect hotspots.
Customized treatment plans tailored to your specific needs.
Safe removal of stinging insects, including wasps, hornets, and yellow jackets.
Satisfaction guarantee – we won't rest until you're completely happy with the results.
Over 60 years of local service you can trust.
Don't risk painful and potentially dangerous stings by trying a DIY treatment. Trust our expert team to safely and effectively handle the wasp removal for you. Contact us today to schedule a consultation and take back your outdoor space from stinging insects.
Our Guarantee
Should pests persist in between scheduled treatments, simply let us know and we'll re-service your home for no additional cost to you. That's our guarantee to you!
Image