About Us
Okeena Termite and Pest Control
Get to Know Us!
The business of Okeena Termite and Pest Control is a family-owned, locally-operated business. We are proud to say that we serve the residents and businesses located in West Tennessee. Okeena Termite and Pest Control was established in 1962, bringing us to 60+ years in business! What has kept us alive all these years is our simple motto: doing the right things and doing things right.
We are and always have been committed to this essential core value. Everyone at Okeena Termite and Pest Control truly believes that providing our services while abiding by our motto is what sets us apart from our competitors.
Image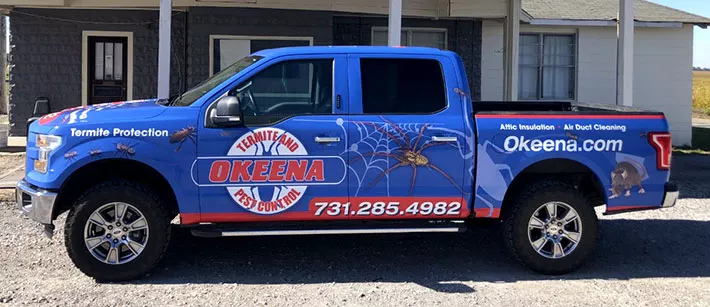 Our Commitment to You
Okeena Termite Pest Control has created a set of commitments that allow us to ensure we can keep our clients pest-free all year long.
Treating clients like family. Our team members treat everyone with respect and dignity, including each other.
Raving fan service. The way we see it, it's never okay to settle for just a satisfied customer. Our team would rather go above and beyond to ensure that we deliver the absolute best pest control services that you can find in the industry.
Qualified. Okeena Termite and Pest Control is licensed, bonded, and insured, so you can trust that everyone on our team has the knowledge, skills, and experience to keep your home or business pest-free. Each technician participates in a rigorous, ongoing state-certified training program to keep their skills at the top of the game.
Safe. We don't take safety lightly, it is part of our commitment to you because we carefully choose which technicians are right for your unique job. We ensure everyone is equipped with the latest safety equipment to protect our team members and our clients.
Our Guarantee
Okeena Termite and Pest Control will stand behind the work we provide 100% of the time. The reason we commit to the raving fan service is that we will do whatever is called for to ensure our customers are beyond thrilled with the service we have provided. Our team knows that each pest situation is unique. Whether that is because it requires a unique treatment or multiple application techniques, we are always sure that we are prepared for your home or business, no matter the particulars.
Okeena Termite and Pest Control asks our customers to allow 10-14 days after each pest control treatment to allow for complete results. If you are still having concerns after the settling period, we are happy to come out and reassess the situation, and even retreat the area when it is called for. We want our customers to know that one treatment is helpful, but Okeena Termite and Pest Control recommends multiple applications for recurring or excessive pest control issues.