Image
Looking For An Exterminator in Newbern?
Pest Control in Newbern
When you're facing an infestation, the last thing you need is half-hearted service. After over 60 years of pest control in West Tennessee, our team here at Okeena is well-equipped for the variety of pests to look out for in Newbern. All of our technicians take part in ongoing state-certified training to protect your home from a multitude of pests.
When you count on us for pest control, you can expect:
A free inspection

from one of our expert exterminators.

Regular applications of an exterior protective barrier

 are included in all programs.

A variety of programs

to fit your budget and your unique needs.

A courtesy phone call

when the exterminator is on their way.

Same-day and next-day service options!
Family-Safe Pest Control
As a family-owned locally operated business, at Okeena we owe our success to the family, friends, and neighbors that spread the word of our good work. We understand that pest control affects the entire family. Our treatments are family safe so that you're getting pest control that protects more than just property. 
We pride ourselves on service that puts customer satisfaction at the center of everything we do. If you're ready for great pest control results with hometown hospitality, call us today
Image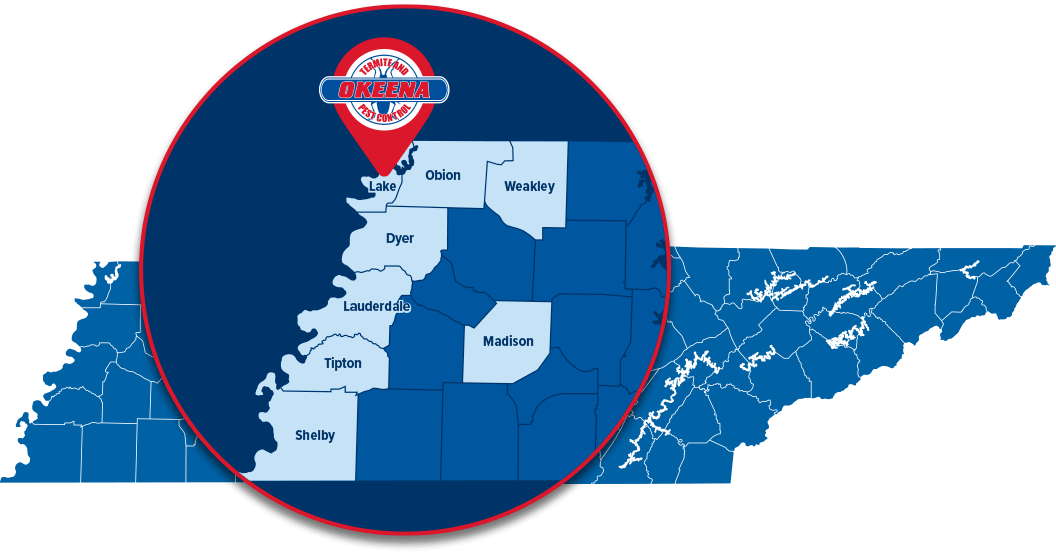 Termite Treatment in Newbern
If you're noticing a moisture problem in your home, like warped wood structures or damp crawl space, it may be time for a termite inspection. Termites love to feast on wood, particularly in areas where moisture may go unnoticed. 
An infestation may be intimidating, but whatever your house structure, Okeena has a termite treatment and protection plan for you, including:
Three termite program

plans for homes with crawl spaces.

Two program

plans for homes with concrete slab foundations.

Treatment options are created to

accommodate different budgets.

Both baiting and chemical treatments.

Annual renewal option

for yearly termite treatments.
From proactive plans for moisture control to comprehensive treatment plans to fit your home and budget, Okeena has what it takes to control destructive termites. 
Bed Bug Treatment in Newbern
Nothing sends a shiver down the spines of home or business owners like a potential bed bug problem. As a preferred vendor for bed bug treatments, at Okeena we understand how such tiny bugs can quickly become a big problem. 
When you call on us for bed bug treatment, you can expect:
A free quote

once the extent of the infestation is determined.

A free inspection

by one of our highly-trained technicians.

A preparation sheet

on how to prepare your space for treatment application.

A free two-week follow-up

after treatment to ensure that bed bugs are eliminated.
We'll be sure to give you the time you need to prepare for the application of our cutting-edge bed bug treatment and work with you to make sure you get the most out of our service.
Insulation in Newbern
Poor insulation could be bringing up your energy bills and attracting more pests to your home. At Okeena, we noticed our customers commonly facing rising energy costs and recurring pest problems without a clear cause. We developed our cellulose insulation as a response. Our innovative cellulose insulation:
Uses recycled newspaper

for its eco-friendly material.

Gets infused with boric acid

that naturally repels common pests.

Prevents 40% more energy loss than fiberglass.

Is scientifically proven to resist heat transfer and save energy. 
A switch to cellulose insulation could save you up to 30% in energy costs and keep the weather from getting you down. Take a break from adjusting your thermostat and call us about cellulose insulation today!
Stinging Insect Control in Newbern
Are you tired of worrying about stinging insects like wasps, hornets, and yellow jackets ruining your outdoor activities? Look no further than Okeena Termite & Pest Control, your trusted wasp exterminator in Newbern!
When you partner with us for stinging insect control, we will:
Get rid of stinging insects like wasps, hornets, and yellow jackets
Customized treatment plans to fit your specific needs
Safe removal of wasp nests
One-time service for your convenience
Provide service backed by over 60 years of local service and expertise
Don't risk painful stings or potentially dangerous allergic reactions. Our wasp removal service ensures your family's safety and peace of mind. Contact us today to schedule a consultation and reclaim your outdoor space!
Our Commitment to Excellence
Okeena's decades in the pest control business have been bolstered by our core values of safety, quality, and exceptional customer service. We treat every client like family and approach every treatment with the specific needs of the job in mind. You can count on Okeena for a job done well.
Our Guarantee
Should pests persist in between scheduled treatments, simply let us know and we'll re-service your home for no additional cost to you. That's our guarantee to you!
Image