Image
Looking For An Exterminator in Covington, TN?
Pest Control in Covington
Okeena Termite & Pest Control was founded in 1962 to provide exceptional pest control in West Tennessee characterized by outstanding customer service. We don't just get the job done, we aim to exceed expectations with pest control you can rely on in your moment of need.
When you count on Okeena for pest control in Covington, you can expect:
Free general inspections.
A selection of treatment packages made with your budget in mind.
Preventative exterior barrier treatment included in every plan.
Same-day and next-day service options for convenient scheduling.
Courtesy calls whenever a technician is on their way.
Our well-accredited, courteous technicians are ready to serve you with the same care we would give our own families. Call today to get the pest control you need, when you need it.
Image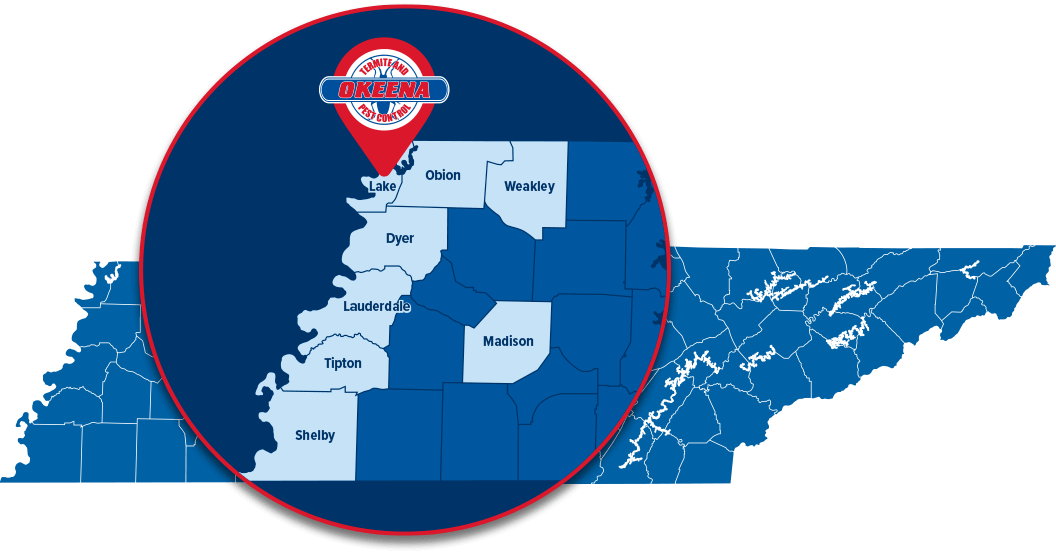 Termite Treatment in Covington
Termites are small and mighty pests that can cause catastrophic property damage without proper termite control. They especially enjoy damp wood, which means you're more at risk if there are moist or humid spaces in your home. At Okeena, we go beyond getting rid of termites and offer additional services to make your property less appealing to termites.
Our termite treatment plans offer:
Moisture control service that can prevent termite problems.
Two package options for homes with slab foundations.
Three package options for homes with crawl spaces.
Exterior barrier application included with every option.
The prospect of termite infestation can be overwhelming. Let Okeena take care of your termite concerns so you can trust your home is safe from unpredictable property damage.
Bed Bug Treatment in Covington
Over the course of Okeena's 60+ years of business, we've become a preferred vendor for bed bug treatments in West Tennessee. Whether you've noticed reddish-brown stains on your own sheets or your business requires bed bug inspections, we are prepared to get the job done.
When you contact Okeena for bed bug treatment, you can expect:
Free inspections so that no hiding place goes unnoticed.
Preparation instructions that will help you make the most of treatment.
Convenient scheduling that gives you the time you need to prepare.
A free follow-up inspection two weeks after initial treatment so that you can be confident you're bed-bug free.
Call today to schedule our cutting-edge bed bug treatment to save yourself from irritating bites and get your peace of mind back.
Insulation in Covington
All insulation is not equal. Poor insulation can result in increased energy costs, not to mention recurring discomfort with changes in the weather. Pest control and temperature control are intricately connected, as most common pests are attracted to homes as shelter from the weather and can be hard to evict when they've chosen a place to stay.
We formulated our cellulose insulation as an eco-friendly solution to this combination of issues. When you choose our insulation, you can expect:
Eco-friendly material composed of recycled newsprint.
Boric acid as a natural pest-deterrent ingredient.
Free quotes.
Up to 30% savings on energy costs!
Our cellulose insulation is scientifically proven to resist heat transfer and prevent 40% more energy loss than fiberglass. Call today to find out if cellulose insulation is right for you!
Pest Control with Core Values
Okeena is a family-owned and operated local business. We understand that pest control is about protecting your family. We owe our success to the power of connections between neighbors, and we never take that for granted. We prioritize safety, quality, and customer service with a personal touch. We'll get the job done, get it done well, and make sure you're satisfied with the results.
Our Guarantee
Should pests persist in between scheduled treatments, simply let us know and we'll re-service your home for no additional cost to you. That's our guarantee to you!
Image