Image
Looking For An Exterminator in Brownsville, TN?
Pest Control in Brownsville
When pests invade your home, you want relief that lasts. At Okeena Termite and Pest Control, we specialize in providing same-day residential pest control in Ripley. With over 60 years of experience, we know how to get rid of common household pests quickly and effectively.
When you choose Okeena Termite and Pest Control, you can expect:
Same-day service
Family and pet-friendly treatments
Recurring service options
Thorough pest inspections
Expert exterminators
Our highly qualified exterminators are experts in general pest control and can handle any pest situation you may encounter. From ants and roaches to spiders, silverfish, fleas, ticks, moths, and much more, we have the knowledge and tools to eliminate pests and keep them from coming back.
Image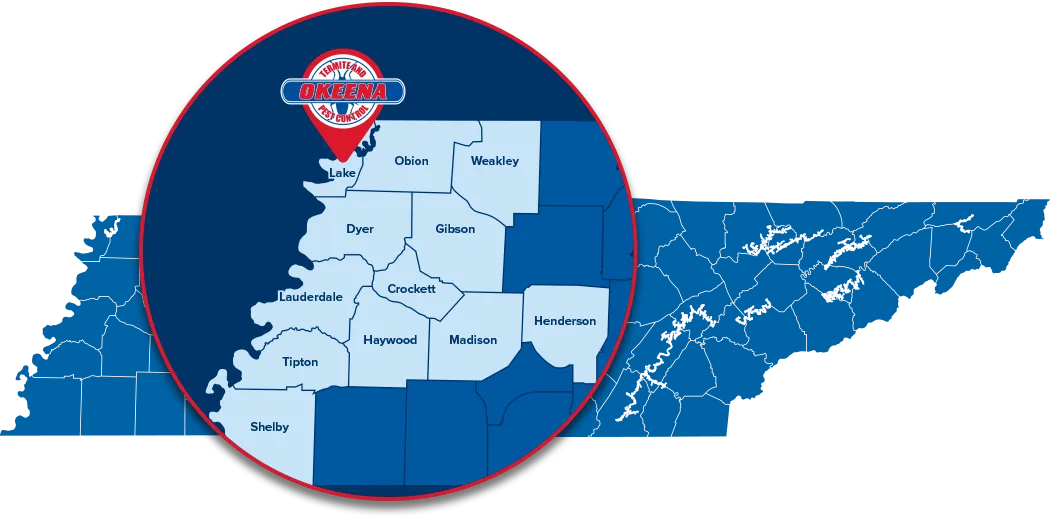 Stinging Insect Control in Brownsville
Take back control of your outdoor space with our reliable stinging insect control service. Say goodbye to wasps, hornets, and yellow jackets that threaten your peace of mind. Trust Okeena Termite and Pest Control to provide the professional wasp removal you need.
Get Rid of Stinging Insects Today
Contact us now to schedule a consultation and experience the difference of our comprehensive inspection, safe removal techniques, and unrivaled customer satisfaction guarantee. With Okeena Termite and Pest Control you can reclaim your yard and enjoy a wasp-free environment for years to come.
Termite Exterminators in Brownsville
Are termites wreaking havoc on your home in Brownsville, TN? Look no further than our top-notch termite control service! With over 60 years of experience, we are the trusted termite exterminator in Brownsville. Here's what sets us apart:
Comprehensive Termite Inspection: Our expert technicians will conduct a thorough inspection of your property to identify any signs of termite infestation or potential risk factors.
Five Different Treatment Programs: We understand that every home is unique, which is why we offer five different treatment programs tailored to your specific needs and budget.
Family-and-Pet-Friendly Termite Treatments using Sentricon: We prioritize the safety of your loved ones and furry friends. Our specialized treatment using the Sentricon system effectively gets rid of termites while being completely safe for children and pets.
Ongoing Termite Monitoring and Prevention: Our commitment doesn't end with treatment. We provide ongoing monitoring to ensure termites stay away from your property for good.
Bed Bug Exterminator in Brownsville
We understand the frustration and discomfort that comes with a bed bug infestation. Our bed bug control service in Brownsville is designed to help you get rid of bed bugs and get back to enjoying a good night's sleep.
Here's what you can expect from our bed bug treatment:
Free inspection from our experienced and personable technicians
Free quote to make an informed decision
Detailed preparation instructions for maximum effectiveness
Free follow-up two weeks after the initial treatment
Service that goes above and beyond to ensure your satisfaction
Don't tolerate bed bugs any longer. Choose our reliable bed bug control service in Brownsville and enjoy peaceful and uninterrupted sleep once again. Contact us today for a bed bug-free home.
Our Guarantee
Should pests persist in between scheduled treatments, simply let us know and we'll re-service your home for no additional cost to you. That's our guarantee to you!
Image