Image
Looking For An Exterminator in Jackson,TN?
Pest Control in Jackson, TN
We believe everyone deserves a better quality of life, and if you're cohabitating with pests, that can feel off the table. This doesn't have to be the end-all-be-all, because Okeena Termite & Pest Control has the best service and experienced professionals to help you get rid of them. Partnering with the right team of exterminators means the opportunity to take your home, and your peace of mind back. We have the tools to conquer any problem we're faced with, and we're determined to take your home back. 
Our team of experts will protect you from:
Bed bugs
Mosquitoes
Fleas and Ticks
Spiders
Termites
Wasps
And more!
Image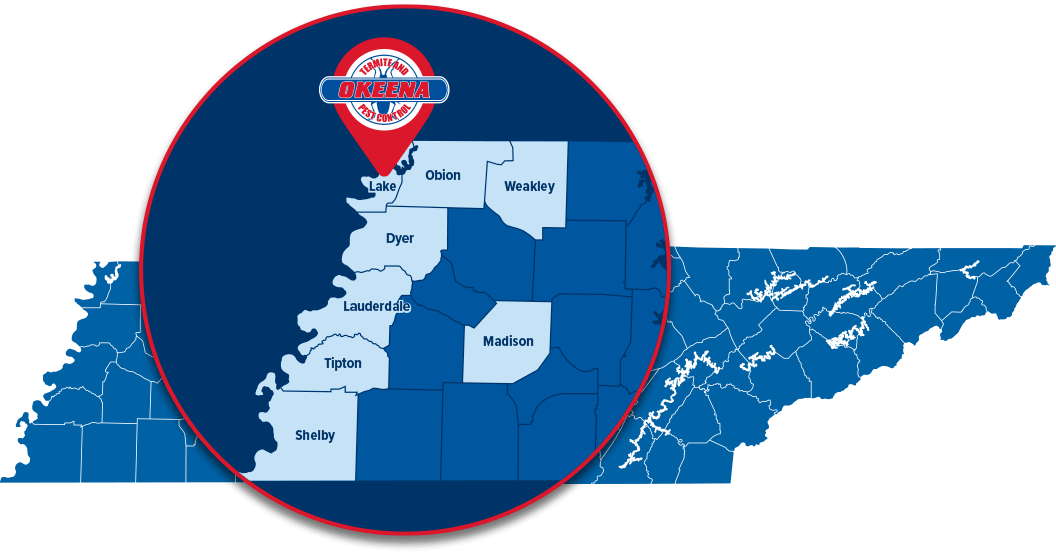 Termite Treatment in Jackson, TN
Did you know that termites are responsible for causing billions of dollars worth of damage every year? Well, these pests are known for more than just burning a hole in your pocket. Termites can destroy the foundation of your home, eventually causing your ceilings or floors to cave in. When you attack a colony of termites before it turns into a serious infestation, you have the potential to save yourself a lot of stress and money in the long run. This is where the team at Okeena Termite & Pest Control comes in. With over 60 years of experience, our termite control technicians will inspect your home and create a unique treatment plan. Don't attempt to do it yourself; we'll take one for the team!
Whether you're in the beginning stages or have a more serious infestation, call us today to schedule the best termite control services in Jackson, TN!
Air Duct Cleaning in Jackson, TN
Many people are unaware of what lies in their air ducts, but we're in the business of keeping you well-informed. If you're thinking you've never had them cleaned before, you're probably right. Your air ducts can hold a wide array of bacteria, which is usually the culprit of many of our illnesses and allergens. When you book this service with us, you're advocating for the health of you and your family. 
Here's what can accumulate when you haven't had a proper air duct cleaning:
Dust Mites
Viruses
Carbon Monoxide
Mold
Pet Dander
Tobacco Smoke
Fecal Matter from Pets and Insects
And more!
Call us to protect your family from the harmful bacteria that can pile up in your air ducts, because this is a job for the experienced technicians at Okeena!
Stinging Insect Control in Jackson, TN
There's no reason to put up with wasps when you have our team on your side! They can cause you dizziness, swelling, irritation, and many other serious allergies. We choose only the best methods for wasp protection, and we make sure you're covered for 90 days with just one application. You can count on us to be there when wasps strike, and we'll make sure you're protected for the long haul. We know it's important to you to keep your family safe, and you can rest assured knowing you and your family are our first priorities.
The next time you need wasp protection, don't take time to think and just call us!
Rely On 60+ Years of Experience
At Okeena Termite & Pest Control, we are family-owned and locally operated, which means we can proudly put a face to the name. Our motto is simple: Doing the right things, and doing things right. With over 60 years in business, you can count on top-notch customer service, trust, quality work, and the same friendly faces at every visit. When you call our exterminators, we're confident that you'll feel like part of the family. We don't want you to just be satisfied. We want you to be over the moon with our services, and not hesitate to recommend us to your loved ones.
Our Guarantee
Should pests persist in between scheduled treatments, simply let us know and we'll re-service your home for no additional cost to you. That's our guarantee to you!
Image